What's Going On With Growth in Cape Coral?
Published: August 30, 2022
Commercial development in Cape Coral is booming and is now catching up with the hot residential market. The biggest changes can be seen just by taking a drive down the city's main corridors.
Pine Island Rd. has been the focus of commercial growth for the past decade, but several new projects are in the works.
Cape Coral Commons is under construction and scheduled for completion in the Fall of 2022. Plans for this site on the NW corner of Pine Island Rd. and Del Prado Blvd. include a First Watch, Firestone Subs, Crumbl Cookie, Love Boat Ice Cream, Mission BBQ, PJ's Coffee, and Tire Kingdom.
​Sprouts Farmers Market is preparing to open this Fall at the southeast corner of Pine Island Rd. and Pondella Rd.
Just south of Pondella Rd. along NW 19th Pl., ABC Supply will open a 50,000 sq. ft. warehouse later this year.
Cape Coral's first Mellow Mushroom is coming to Pine Island Rd. right next door to Gator Mike's Family Fun Park.
To the west of Santa Barbara Blvd. plans are in the works for two apartment complexes. The Club on Pine Island will be located next to Sam's Club and Civitas of Cape Coral will bring 96 affordable housing units to Pine Island Rd.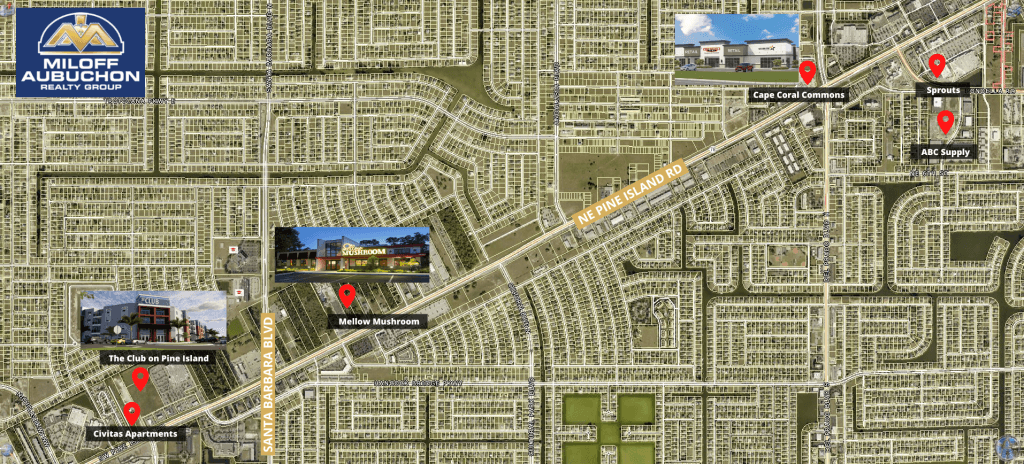 Southwest Pine Island Rd. is also bustling with activity.
Several multi-family projects are in the works including Coral Grove at Cape Coral, an outdoor mixed-use town center surrounded by 1,234 multi-family and 125 hotel rooms.
The Palms on Pine Island Rd. is 285 units of multi-family living currently under construction.
Embers Lake Apartment Complex sits on 84 acres on the north side of Embers Pkwy. and Nelson Rd. Phase 1 of these amenity-rich apartments includes 690 units with another 647 planned for Phase 2.
The Springs at Coral Shores is a proposed 17-acre development consisting of ten multi-story apartment buildings.
More residents along this corridor create a large demand for retail and commercial space.
Pine Island Park is a new retail development located in Cape Coral's prime northeast commercial corridor.
West of Chiquita Blvd. plans are in the works for a WaWa Convenience Store, a Walmart Supercenter, and several mixed-use projects at the corner of Veterans Pkwy. and Pine Island Rd.
Lee Health purchased parcels along Pine Island Rd. and anticipates the construction of a facility featuring a combination of physician offices, diagnostic testing, pharmacy, laboratory, emergency department, outpatient surgery, observation beds, and other health care services.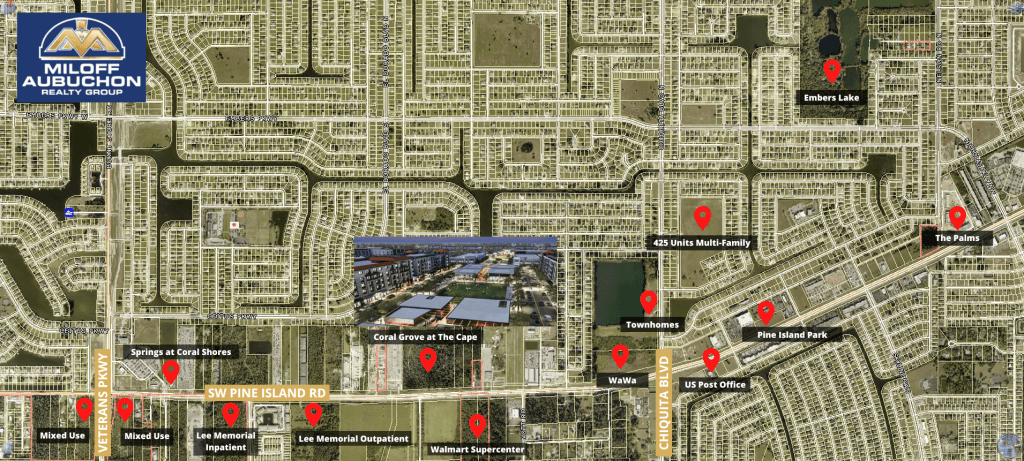 South Cape is seeing the most development projected in the Community Redevelopment Agency (CRA) since its inception in 1986.
Madison Square Senior Apartments is scheduled for completion in 2022 with 82 units under construction.
Developers recently broke ground on The Cove at 47th featuring 325 multi-family units, 19,000 square feet of retail space, and a 600-stall parking structure with 125 spaces reserved for the public.
Bimini Square is set to bring new housing, healthcare offices, and waterfront dining to South Cape. The residential component will feature 198 luxury apartments. Other aspects include a six-story parking facility, a rooftop resort-style pool overlooking the Bimini Basin, a waterfront restaurant and docks as well as health-related services to be provided by Lee Health.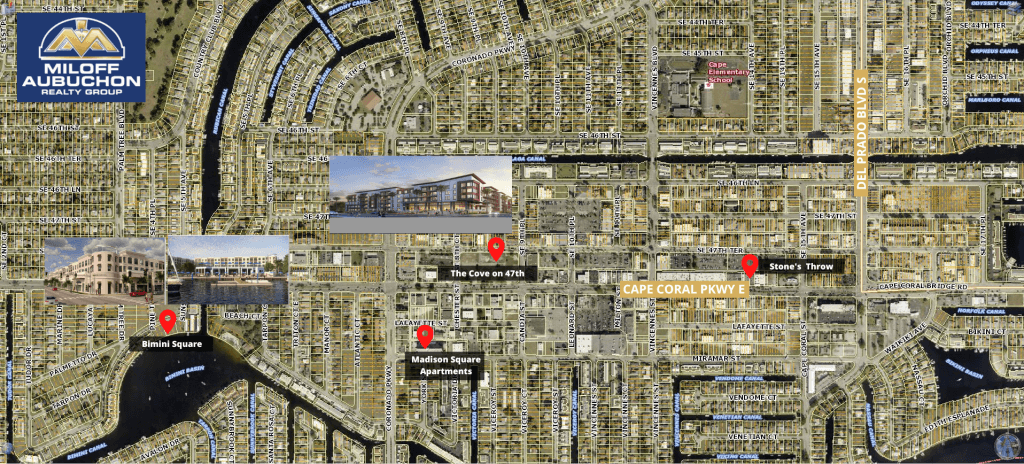 It's an exciting time to live and work in Cape Coral. If you have questions about these or other upcoming projects in the city or want to learn more about existing space and commercial opportunities contact Miloff Aubuchon Realty Group. Our team knows the community and is ready to help with your next move in Southwest Florida.